An award-winning landscape maintenance company, Primary Grounds offers worry-free, full-service landscape maintenance programs that will ease your mind while we care for your property. Through onsite evaluation and consultation, we can do it all or simply supplement your hands-on approach.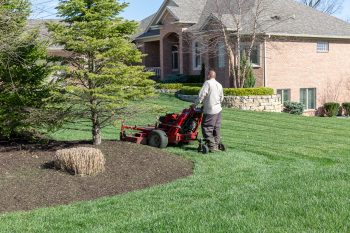 Pruning, weeding, bed edging, mulching, tree trimming, floral design, and many more services come together to create beautiful, healthy landscapes that are envied by passers-by.
Lawn Maintenance
We take great pride in turning a lawn around from the brink of disaster. Aeration, soil testing, soil conditioning, soil amending, over seeding, slice/slit seeding, topdressing, erosion correction, etc. are all processes in our arsenal of renovation techniques. Whether you need full corrective action or a regular, annual enhancement, Primary Grounds has you covered. Educated staff and experienced technicians implement proper techniques at the right time in order to enhance the probability of a stellar outcome.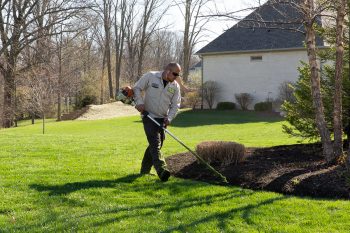 Those of us at Primary Grounds are confident to offer an industry leading quality of cut through our mowing and mechanical edging services.  Utilizing best management practices in height, pattern, and frequency of cut, we are able to provide outstanding results week in, week out. Whether you are going on vacation or need regular service, if a healthy, well-manicured lawn is what you desire, then Primary Grounds is your company to deliver on the expectation.
In Central Indiana, proper turf care is a delicate balance of grass plant nutrition and weed management. We staff registered technicians and create the culture of continued education in order to provide site specific programs and applications. Our 6-Star Program is a great way to keep your lawn healthy and green. With the new option of our organic lawn care program, our clients can realize an even deeper truth to "desiring nice, green grass" than ever before. Let Primary Grounds turn your yard into a lush green lawn!
Our Fertilization and Weed Control Program
Early Spring. Supplies Dry Granular Fertlizer and Pre-emergent Crabgrass Control. Fertlizer assists with spring green up. This is also the best time to effectively control crabgrass, foxtail and other annual grasses.
Spring. Supplies Dry Granular Fertilizer, Pre-emergent Crabgrass Control and Broadleaf Weed Control.
Summer. Supplies Slow Release Dry Granular Fertlizer, Weed Control and Sedge Control as needed. This is also the time of year when we recommend applying our grub worm preventative treatment to protect your lawn from these aggressive insects.
Late Summer. This application occurs at the time in which your lawn will show the most disease and/or insect damage. The late summer application allows Primary Grounds to diagnose any issues, spot treat weeds and apply another round of slow release granular fertilizer.
Fall. Supplies a Balance Rate of Dry Granular Fertilizer and Weed Control as needed.
Late Fall. Heavy Rate of Dry Granular Fertlizer and Weed Control as needed. This is the time of the year when your lawn requires the most nutrients as it is activiely growing and storing nutrients for the winter. Fertilization at this time of year impacts how quickly your lawn will green up in the Spring.
Tree, Ornamental and Shrub Care
Our Indiana Accredited Horticulturalist (IAH) and ISA-certified Arborist professionals on staff give us the knowledge, experience, and expertise to offer a wide range of tree and shrub health services. Prevention is the best course of action and through deep root feeding, organic fertilization, soil testing and enhancements, specialized pruning, and integrated insect and disease management; we stay a step ahead of problems that may arise. Our crews have the experience and training in proper techniques for pruning and planting to help assure we get the job done right.
Integrated Pest Management
Primary Grounds understands the importance of controlling pests before they can ruin your landscape and lawn. We are licensed and insured to provide pest control services with products that are pet safe while maintaining the health of your trees, lawn and other ornamentals. Pest management includes controlling ants, carpenter ants, fleas, ticks, rat and mice, moles, mosquitos and termites.
Foliar Applications
Sometimes spraying trees and shrubs is the only way to effectively treat a problem. Primary Grounds strives to use insect specific products that are environmentally friendly, and that target a specific pest or problem without harming beneficial insects.
Deep Root Feeding
At Primary Grounds, we have a horticulturalist on our staff who oversees our deep root feeding programs for trees and shrubs. Deep root feed or fertilization is a process where our certified technicians inject fertilizer into the root zone of trees and shrubs. This procedure is performed at specific times of the year for optimal results. Deep root feeding promotes healthy root system which in turn improves foliage, flowers and the overall health of your trees and shrubs.
Emerald Ash Borer Treatments
Emerald Ash Borer (EAB) is a potential pest in our area capable of killing ash trees. Infestation of this pest can now be effectively prevented or thwarted with pesticide injection service provided by Primary Grounds at a cost far less than removing and replacing trees as was the practice not so long ago.
Trunk Injections
Tree trunk injections are useful for applying systemic treatments of antibiotics, fungicides and insecticides that go to work immediately.